What is MSME?
MSME full form is Micro, Small, and Medium Enterprises. MSMEs are businesses that create, process, or store goods and commodities. MSME was first introduced by the MSMED (Micro, Small, and Medium Enterprises Development) Act of 2006.
The MSME sector is an essential pillar of the Indian economy, contributing significantly to its growth with a vast network of around 30 million units, creating approximately 70 million jobs, manufacturing over 6000 products, contributing about 45% of manufacturing output and about 40% of exports, both directly and indirectly.
Brief History of MSME
(Ministry of Small Scale Industries and Agro and Rural Industries) MSME established itself in October 1999. The ministry was divided into the Ministry of Small Scale Industries and the Ministry of Agro and Rural Industries in September 2001.
The former Ministries of Small Scale Industries and Agro and Rural Industries were consolidated into the Ministry of Micro, Small and Medium Enterprises (MSME) on May 9th, 2007, as a result of a change in the Government of India (Allocation of Business) Rules, 1961.
MSME Mission and Objective
Encourage the establishment and development of small and medium-sized businesses and the khadi, village, and coir industries to establish new businesses and increase employment possibilities. To support MSMEs and help them scale up, this Ministry now sets policies, promotes/facilitates programs, projects, and schemes, and supervises their execution.
MSME Classification
MSMEs can be classified based on their annual turnover and investment in plant and equipment for both goods and services enterprises.
Classification
Investment in Plant & Machinery or
Equipment (in INR)
Annual Turnover (in INR)
Micro Enterprise
≤ 1 crore
≤ 5 crores
Small Enterprise
≤ 10 crores
≤ 50 crores
Medium Enterprise
≤ 50 crores
≤ 250 crores
MSME Schemes
Every year, the Indian government rolls out several MSME schemes.
The following list of MSME initiatives is highlighted:
Prime Minister's Employment Generation Programme (PMEGP)

The program's objectives are to provide sustainable job opportunities in rural and urban areas by offering financial support for the establishment of self-employment companies. To create long-term, stable work options for young people in rural areas who are unemployed and aspiring traditional artisans, thereby preventing occupational migration.

Credit Guarantee Scheme for Micro & Small Enterprises (CGTMSE)

To encouraging first-generation business owners to pursue self-employment prospects by providing credit guarantee support for loans to Micro & Small Enterprises (MSEs) that are collateral-free or third-party guaranteed, particularly in the absence of collateral.

Micro & Small Enterprises Cluster Development Programme (MSE-CDP) Scheme

To aid MSEs in remaining viable and expanding by tackling concerns like bettering technology, skills, and market access, among others, to build or upgrade infrastructure in MSEs' current or new industrial areas and clusters and promoting environmentally friendly and sustainable industrial practices for the clusters.
DIGITAL MSME
The "Digital MSME" Scheme's goal is to give MSMEs digital empowerment and encourage them to embrace digital tools, applications, and technologies in their production and business operations to increase their competitiveness in domestic and international markets. This scheme aligns with the government's push to promote digital payments in India.
MSME Registration
Only manufacturers and service providers are eligible for the MSME registration. Any manufacturer or service provider meeting the requirements may enroll themselves through the MSMEs' single window registration system.
Applying for Udyog Aadhaar or MSME registration is open to any manufacturer or service provider business that meets the requirements for yearly turnover and investment in machinery and equipment. Proprietorships, Hindu Undivided Families, Partnership Firms, One Person Companies, Limited Liability Partnerships, Private Limited Companies, Limited Companies, any association of Persons, Co-operative Societies, Trusts, or any other organisation may register as MSMEs in India.
How to Apply for MSME
To complete the registration, follow the comprehensive procedure outlined below. When the registration process is finished, the government will validate the information you supplied and send you an e-registration document to your e-mail address.
To begin the registration procedure, go to the Udyog Aadhaar website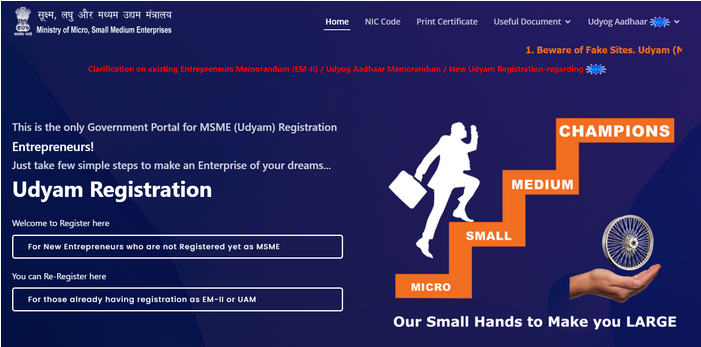 Choose "For New Entrepreneurs who are not Registered yet as MSME" from the menu
When redirected to the next page, enter your Aadhaar information and select "Validate & Generate OTP"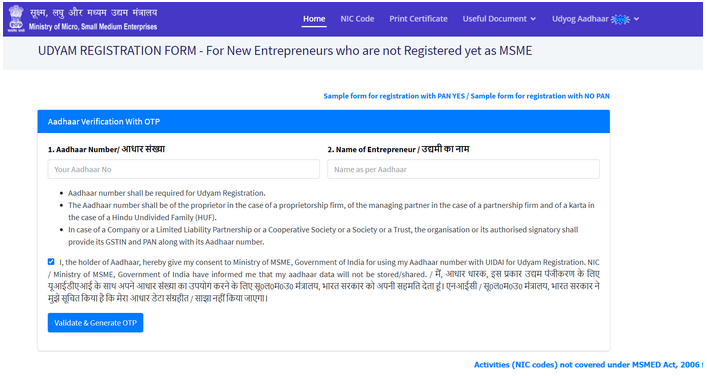 To validate the Aadhaar information, enter the OTP that gets issued to the registered cellphone number
Then, enter your PAN number and click "Validate" after choosing the type of business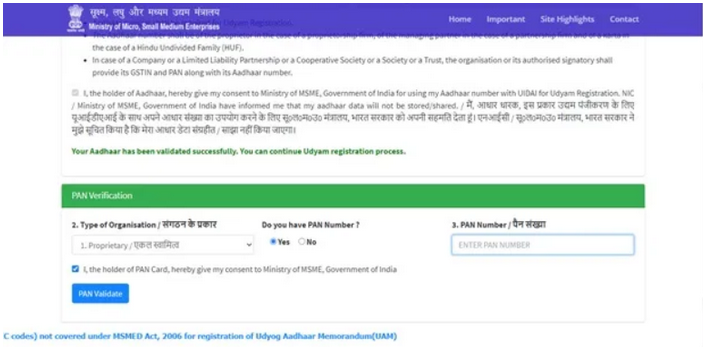 Enter the necessary information in all the fields that are mandatory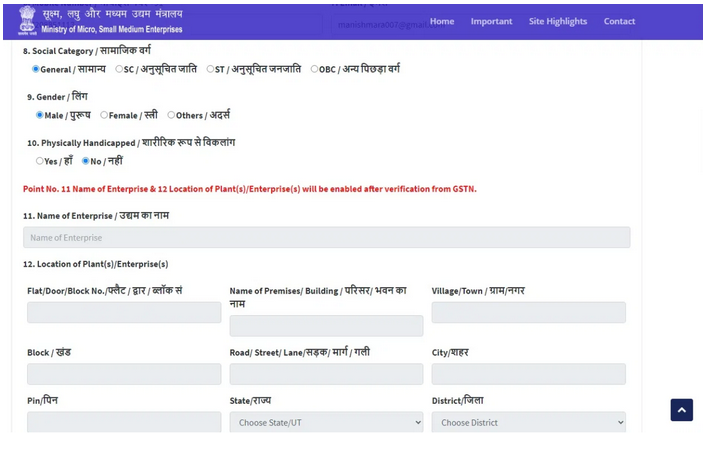 Click the "I agree" box to submit the form and authenticate it with an OTP
The MSME department will review all of your credentials after you submit the form, and three days later they will issue you the MSME certificate, which you may download from their website.
MSME registration
The documents required for MSME registration are
Address proof of the business
Copy of the buy and sales invoice book
Receipts and bills for purchase of equipment or machinery
Copy of the trade license
Aadhaar ID
PAN card
Bank Account Number
IFSC Code
NIC Code
Employee information, if any
Number of Employees
Commencement date for Business
In the case of a partnership firm, partnership details
GSTIN certificate
Partnership deed for an unregistered partnership
Registered Partnership firm: Registration certificate
Memorandum of Association (MoA)
Articles of Association (ADA)
Certificate of Incorporation
Copy of the resolution passed in a general meeting of the company
Copy of board resolution with an authorisation from a director to sign and apply for the MSME application
Future of MSME
MSME growth in India has been quite phenomenal, according to data from the MSME Ministry, as of March 24, 2022, the Udyam Registration portal had registered 7,870,246 MSMEs.
The number of registered micro-enterprises was 7,485,412 (95.11%), followed by small enterprises (349,129 (4.44%) and midsized enterprises (35,705). (0.45%). In total, India had 6.3 crore MSMEs.
A new wave MSME framework that considers the global context and benchmarks, the emerging opportunities in the top industry growth sectors, and particularly India's top socioeconomic imperatives can help by rewarding growth, innovation, productivity, and a sector's advantage in the global marketplace.
According to Indian economic experts, the MSME sector can assist in meeting the goal of the Nation Manufacturing Policy, which states that manufacturing should contribute 25% of India's GDP by 2022.
MSMEs can benefit the power of collaboration with banks and brands by using Innoviti's POS machines
Conclusion
The Indian economy is supported by MSME. This industry has demonstrated its crucial role in the development of the country, the leveraging of exports, and the enormous employment opportunities for the unskilled, recent graduates, and the underemployed. Additionally, it increased banks' options for providing more credit to businesses in the MSME sector. To ensure the longevity of this industry, the government should take great effort to address the relevance of MSME Registration by establishing improved laws and enabling financial institutions to offer more credit at lower interest rates. Innoviti gives several specialised digital payment solutions for SMEs in the market. A new-to-market offering is an example of an online payment solution that uses online EMI wallets to help SMEs with their cash flow and reward programs.
FAQs
Digital payments or electronic payments (e-payment) are made via digital or internet channels without exchanging real cash. It occurs when money is transferred from one payment account to another in which both the payer and the payee utilise a digital device, such as a cell phone, computer, credit, debit, or prepaid card.
MSMEs not only play a significant role in creating numerous job opportunities at capital costs that are relatively lower than those of large industries, but they also aid in the industrialisation of rural and underdeveloped areas, thereby reducing regional imbalances and ensuring a more equitable distribution of income and wealth across the country.
Providing they meet the turnover and investment requirements, proprietorships, Hindu undivided families, partnership firms, one person companies, limited liability partnerships, private limited companies, limited companies, producer companies, associations of people, co-operative societies, and any other undertaking may register as MSMEs in India.
The major benefits of digital payments in MSME are as follows:
By providing customers with a preferred method of payment, you can encourage business growth.
Cut back on payment periods.
Transact in a safe setting.
Easy-to-use and convenient payment mechanism.
Enable personalised payment options.
Simple reconciliation and fraud and human mistake prevention to reduce liability.
Establishing and managing their own loyalty programmes.
Join forces with issuers to offer discount programmes that satisfy customers immediately.
The net turnover threshold for MSME Status is ₹250 crores.
The following are just a few of the many advantages of MSME registration:
Uncollateralised Loans
Reimbursement of ISO certification charges
Concession on electricity bill charges
Subsidy on Industrial Promotion and Patent registration
Protection on delayed payments
MSME loan interest rates begin at a 7.65 % yearly rate.
Medium-sized firms are defined as any business units with an investment of more than ₹10 crores but less than ₹50 crores and a revenue range of ₹50 crores to ₹250 crores.
Small enterprises are defined as businesses with an investment between ₹1 and ₹10 crores and revenue exceeding ₹5 crores but less than ₹50 crores.
Last but not least, micro-enterprises are those businesses with an investment of up to ₹1 crore and a turnover of less than ₹5 crores.
| Type of Enterprise | Micro Enterprise | Small Enterprise | Medium Enterprise |
| --- | --- | --- | --- |
| Manufacturing or Service sector, or both | Investment up to ₹ 1 Cr AND Turnover up to ₹ 5 Cr | Investment up to ₹ 10 Cr AND Turnover up to ₹ 50 Cr | Investment up to ₹ 50 Cr AND Turnover up to ₹ 250 Cr |