Why Do Online Payments Fail?
As digital marketing and sales reach a growing number of consumers, user needs are simultaneously evolving. In response, digital payments are continually innovating. Despite its benefits, new innovations always come with bigger challenges. Hence, naturally, with the sophistication of online payments in India comes several hiccups.
Since online payments are made possible by a variety of elements, an online transaction can easily fail if there any of these elements encounters an error.
While it might seem instantaneous, a single digital transaction at a point of sale (PoS) terminal initiates a chain of steps that brings together several technological platforms and stakeholders who have to work in tandem for a transaction to be reconciled.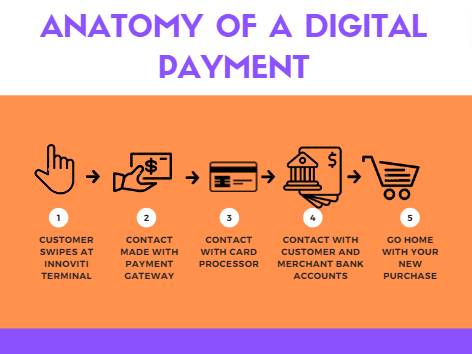 Given that every payment gateway has its own security procedures in place, these hoops change from one gateway to the next. Many factors can cause an online payment to fail, leaving the customer dissatisfied.
Problems With Online Payments
Technical Issues
Online transactions are susceptible to technical issues. This problem frequently arises in systems that rely on technological infrastructure. There may be many hours of outage due to technical problems, related to the terminals and gateways connectivity.
With the aid of Innoviti's payment solutions, anyone can make a purchase without the inconvenience of a terminal or a QR code, which aids retailers in boosting sales. This is because of its great fallback mechanism which provides multiple channels for transactions to be processed in case one fails.
Security Problems
India suffers from a cybersecurity epidemic, making digital payments quite susceptible to fraud and attack. The most frequent dangers include Trojan horses, worms, and viruses. Infected files can be downloaded or sent via email to spread viruses.
Trojan horses can get through or undermine the authentication and authorization methods used in an electronic transaction, endangering transaction safety. Innoviti is the only Fintech firm to hold the SOC3 seal of authenticity and privacy, offering payment services in a secure and safe manner.
Payment Integration
An effortless payment gateway connection can be a difficult ask. Support and heavy investment may be required for the process. When integrating a payment system into a website or app, there are a number of stages and factors that you must take into consideration. If integration fails, transactions aren't processed, and foot fall decreases.
PCI DSS Compliance
Any party in charge of handling the storage, processing, or transmission of credit card information for a person is required to adhere to Payment Card Industry Data Security Standard (PCI DSS) requirements. It is applicable to all businesses that manage credit card information, including retailers.
The costs of PCI failures can be catastrophic, even though the majority of businesses subject to PCI compliance are merely required to self-report. Merchants acknowledge that failing to adhere to PCI DSS may result in fines when they establish a contract with a payment processor.
Dynamic Currency Conversion (DCC)
A credit card function known as dynamic currency conversion (DCC), sometimes known as cardholder preferred currency, enables you to use your home country's currency to make purchases at point-of-sale (POS) locations abroad (CPC).
Consumers can avail DCC on Innoviti terminals to ensure convenient and transparent transactions.
Online Fraud
Whether using a card or not, online payment fraud is a possibility. Online payment fraud refers to any type of unauthorized online transaction carried out by cybercriminals using any of the methods listed below:
Payments made online without authorization
False requests for refunds or compensation
The loss of goods due to the failure to process a payment and the accusation of fraud or fraudulent charging.
For Online businesses, eCommerce clients, and merchants to have a competitive edge in today's fast paced consumerism, need quick and reliable digital payment infrastructure. To ensure that the payment experience for business to business (B2B) and consumer to business (C2B) is successful, Innoviti's payment solution is the best fit. To know more about our product, register your interest today!