What Is A Credit Card?
First, let's get down to the basics.
A credit card is a financial instrument that offers a line of credit or a spendable amount of money to the user and can be used to borrow money for purchases at various stores and other personal reasons.
Most credit cards offer an initial interest free credit period, post which users will be required to pay monthly dues towards their credit interest. A credit card has versatile uses and can be used to transfer balances or avail cash advances. Think of it as a loan that is repaid at a future date. Interest is charged if the borrower exceeds the stipulated limit or defaults on the monthly repayments.
Why is it Important to Accept Credit Cards?
Offers and brand collaborations are often floated on credit cards, making it necessary for merchants to boost credit card swipes at their store.
Due to increased access to credit, users are three times more likely to spend on 'large transactions.' While credit card penetration is low, standing at 5.55%, compared to debit card users, credit card users spend 40x more. However, much of their spending is online aligning with data which shows that Indian credit card owners have spent Rs. 68,327 crore online in contrast to Rs. 38, 773 crore in stores via terminals.
As merchants lose customers online, it becomes necessary for the health of their business to draw them to their stores for offline purchases.
Innoviti's credit card friendly PoS, frees merchants from the limitations of run-of-the-mill terminals. As pioneers of a collaborative commercial platform, our terminals have cutting-edge technology that accepts any and all cards, including credit cards. With exciting offers and EMI options, merchants can seamlessly convert customers. Be sure to take advantage of the EMI wallet feature of genie as it offers never before seen payment flexibility to customers on a budget.
Benefits of Accepting Credit Card Payment
Accepting credit cards from customers is beneficial for a business, whether small or large. It helps to keep the inflow of money in a standard, regular and reliable way. And, by ensuring your business is credit card friendly, you help customers improve their credit score, keeping them coming back. Once customers realize the value of in-store visits where quality and a meaningful relationship is assured, preference for offline purchases will increase.
While credit cards allow customers to pay immediately even if they do not have cash in their bank account, Merchants and people in business face various challenges with cheque payments. In such a scenario, hassle-free credit card processing makes things faster and easier.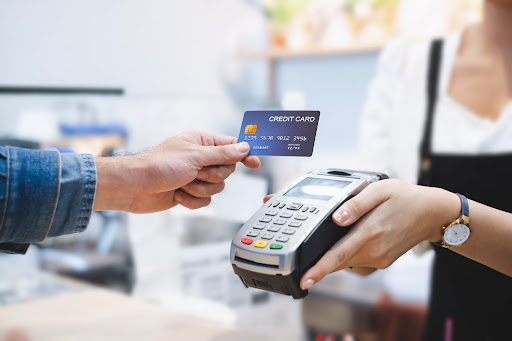 Steps To Accept Credit Card Payments
Merchants can process payments easily using credit cards, which can be done physically or online. Specific steps need to be followed for credit card processing.
How to accept credit card payments online?
The customer will swipe the card at the Innoviti payment terminal or even use a mobile device and enter their PIN (Personal Identification Number) for the payment to be processed.
The payment processor will contact the card issuing bank online to check for available balance depending on the credit line of the customer.
The payment will be processed if approved, or it can be declined based on the permissible credit limit.
If you are wondering how to accept credit card payments in POS, understand that POS or Point of Sale transactions require a card processing machine. The card is swiped or tapped for the payment to go through. This device should be enabled to proceed with credit cards.
For a terminal to accept payments from credit cards, it needs to be connected to the internet, and the machine needs to be programmed to contact the payment gateway so that payments can be authorized.
Calibrating PoS terminals to various credit cards can often be a tedious process. To overcome this logistical hassle, merchants are opting for the Innoviti credit card machine. Our terminal processes all types of credit cards in record time and comes in various configurations. Based on the requirements of the business, our committed service team can set up systems that are calibrated in accordance with the nature of footfall and volume of transactions.
Credit Card Processing Fees
The processing fee depends on the credit card provider. Visa, MasterCard, and many others charge different fees, typically a percentage amount. It can range from 0.5% to 2.5%. If you are wondering, if you get charged for using the credit card, know that the merchant does not get charged for using the credit card. However, they are charged a processing fee for using the payment gateway of the bank.
Credit Card Frauds
It is essential to know about credit card payment fraud and how to avoid getting duped. Credit card fraud can occur when the user's personal information and the card are compromised.
Credit card fraud is an unapproved transaction using stolen credentials or phishing on the internet. If the card is stolen, it can be used to withdraw cash. If personal information is stolen through phishing during online transactions, it can be used to make transactions and transfer funds online. The best way to avoid fraud is to check the person's ID proof and match it with the name on the credit card.
Safety Tips While Transacting Using Credit Cards
A credit card is a vulnerable financial instrument and is susceptible to fraud in several ways. Misusing the card is very easy if it falls into the wrong hands. However, by following these safety tips, you can ensure the safety of the credit card.
Ensure the user is the rightful owner of the card by asking for ID proof and checking the name on the credit card for a match.
Never store customer credit card information for later use. Several times it gets rejected.
Never do cash refunds against credit card charges. Always return the amount to the respective card.
Trust your instincts to detect a possible credit card fraud.
Finally, protecting a customer's personal data is conducting good business, and it is the law.
To ease your anxieties, Innoviti's terminals come equipped with robust security measures to verify cards, match them with relevant offers (if applicable) and prevent offline payment fraud. Innoviti occupies an unchallenged position in the digital payments market for its proven reliability and commitment to transparency. In fact, it is the first Indian company to be awarded with the coveted SOC3 seal for its continued delivery of security, processing integrity and confidentiality.
FAQs
The processing fee for transactions depends on the payment provider. If the transaction amount exceeds the approved amount, a few or a percentage of the transaction will be charged. If the credit card is charged in international locations, there will be a processing fee. The number of fees will depend on the credit card issuing bank.
No, there are no charges for using a credit card at any time.
A small business must determine the number of transactions processed in person, online, and on the phone. Also, consider the type of cards like Visa, MasterCard, and American Express. The processing fee varies on the type of transaction and the card network. Use the Innoviti terminal to build long lasting relationships with your customers.
The merchant or small business owner pays the credit card processing fees. This is a minimal amount charged for using the point of sale and the bank's payment gateway.
Conclusion
A business-savvy merchant always looks for the best and cheapest ways to process credit card payments. It is always good to weigh the business need and opt for services that minimize costs while maximizing sales. If you'd like your business to be credit card ready, register your interest with Innoviti today either by using the chat feature or give us a call and a customer representative will reach out to you at the earliest.