Moves its scores many notches higher to be certified again for 2 consecutive years
BENGALURU, India, Feb. 23, 2023 /PRNewswire/ — Innoviti Technologies gets Great Place To Work® Certified™ for the second consecutive year in 2023. Over 82% of Innoviti employees whole-heartedly participated in the survey conducted by Great Place to Work and endorsed their belief in Innoviti being the best place amongst mid-sized companies by creating a steep 21% increase from last year's result.
In 2022, Innoviti had an overall score of 70 points but within a year through implementation of people-centric and growth focused policies, the score has risen by a whopping 15 points to an overall 85 points, raising the bar for performance. A 2x rise from industry normal of 8-9 points is a feat in itself.
The certification stands a clear testimony of new age growth-oriented leadership that has positioned Innoviti as a leading employer within the midsized tech / fintech industry.
The maximum workforce gave a huge thumbs-up to key factors of growth like
Credibility of management improved [15 point rise to 85],
Respect for people [16 point rise to 83],
Fairness at the workplace [11 point rise to 85],
Pride [14 point rise to 87],
Camaraderie between people [17 point rise to 83],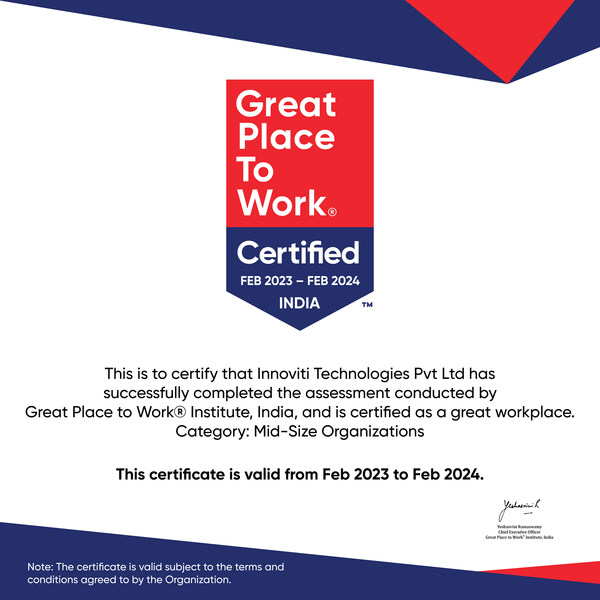 Great Place To Work® is the global authority on workplace culture. Since 1992, they have surveyed more than 100 million employees worldwide and used those deep insights to define what makes a great workplace: trust. Their employee survey platform empowers leaders with the feedback, real-time reporting, and insights they need to make strategic people decisions. The Institute serves businesses, non-profits and government agencies in more than 60 countries and has conducted pioneering research on the characteristics of great workplaces for over three decades.
Innoviti Technologies, known for being growth-oriented company with a right-people, fit-right approach, has always supported its people to retain their uniqueness while pushing them to embrace a collective common growth path. People centric initiatives have built Innoviti as real caretakers especially during the pandemic. Boosting group medical coverage by 4x, offering unique incentives to front-line field resources, implementing two increment cycles, paying out annual incentives and performance-linked variable bonuses have been specially appreciated. Initiatives across functions have reduced the company's attrition rate to 3% in 2022-23, which is much lower than the industry average.
Amrita Malik, Co-Founder and President, Innoviti Technologies, said, "Right people with the right skill-sets are essential to adapt to the fast changing market dynamics. It is extremely satisfying that 82% of our team members endorsed our efforts in realizing our vision and embraced our passion to excel. We have invested in young, ambitious, and adaptable workforce who have the courage to face any market challenge fearlessly. This is our greatest leverage point, allowing us to build and offer digital payment products that are greatly valued for their premium offerings. A committed team and our shared mission is why we are consecutively being certified as a Great Place to Work. Based on principles of excellence first, Innoviti provides a stimulating ground for high achievers, inspiring them to achieve more while doing it right. I am happy that 'Innovitians' relate well with our philosophy. Together, we will continue to enable the organization to reach greater heights while placing new milestones."
Navneeth Sulakhe, Senior Vice President and Head, Human Resources, Innoviti Technologies, said "At Innoviti, our cultural values of curiosity, urgency, risk-taking, self-management, and quality drive to listen first and act quickly on feedbacks, demonstrating our unwavering commitment to continuous improvement. Innoviti opens door to those who want to excel and foresee a growth career ahead of them. This place supports new skill enhancement, learnings on new challenge acceptance and delivery process, and teaches how contribute meaningfully to any growth mission. Investing in the great talent is investing in an great future ready organization that enables success for all."
About Innoviti Technologies Pvt. Ltd., Bengaluru, India.
Innoviti Technologies (formerly Innoviti Payment Solutions) is India's largest provider of collaborative commerce solutions to Enterprise merchants with a 76% market share of all purchases being paid for digitally in this segment. Innoviti's vision is to help people make better purchase decisions by providing better purchase options. The company processes over 10B$ of purchases from over 1000+ cities with a volume throughput per installation that is 2X of the country's average. Bessemer Venture Partners, USA, FMO, Netherlands, Panthera Growth Partners, Singapore, Alumni Ventures, USA, Catamaran Ventures, and Patni Advisors are investors in the company. The company has 6 patents awarded with 21 more filed. Innoviti is the winner of Mastercard's Innovation Wizards Award, Reliance's Most Promising Growth Consumer Finance Award and Deloitte Fastest Growing Companies in Asia award in 2020.
About Great Place to Work
In India, the institute partners with more than 1400 organizations annually across over 22 industries to help them build High-Trust, High-Performance Cultures™ designed to deliver sustained business results. Hundreds of CEOs and CXOs from India Inc. are part of the great place community that is committed to the vision of making India a great place to work for all.
The Institute's research shows that great workplaces are characterized by great leadership, consistent employee experience, and sustainable financial performance. These organizations can deliver a consistent experience to all their employees irrespective of their role, gender, tenure, or level. Their leaders believe in the vision of creating and sustaining a great place to work for all and role models being for all leaders.
Learn more at https://www.greatplacetowork.in/ and on LinkedIn, Twitter, Facebook and Instagram.